About St Helens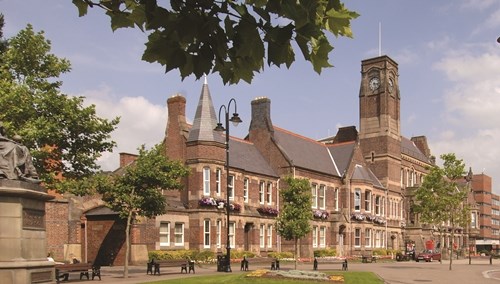 St Helens Council is one of the most significant employers in the area employing over 6,500 people in a wide and diverse range of roles and professions from Leisure Assistants to Teachers, Accountants to Care Workers and Gardeners to Social Workers to name just a few.
We deliver an extensive range of vital services to residents, businesses, schools and visitors to the Borough, both directly and through contracts and partnership arrangements.  The services we provide include care services for older people, vulnerable adults and people with disabilities, early intervention, child in need services and early year's services, school support and improvement, support for children  with special educational needs, fostering and adoption services, public health, waste and recycling, street cleansing, housing and homelessness support, planning permission, environmental health and trading standards, benefits administration, maintenance of highways, footpaths, parks and open spaces and many more.
As an employer we recognise that our employees are central to everything we do.  We aim to create a supportive and dynamic working environment where employees can achieve their full potential.
St.Helens Council recognises that the challenges of the external environment are going to necessitate fundamental change.  The Council intends to both embrace and commit to change for the benefit of the community and its employees.  In order to achieve this we have established a 2020 Vision and Change Team to support the Council's vision for 2020 and beyond.
A New Way of Working
In order to meet the challenges going forward and achieve our priorities we have begun to closely examine our future, involving our staff in the creation of a new model for how we operate.
Employees have determined that we need to be an adaptive innovative organisation that is able to support the communities and people of St Helens to be the best that they can be.  In moving towards this we will seek to build on our existing strengths as a well-managed, effective, efficient and caring Council.                                                                                                                                                                                                             
Departmental Structure
In order to effectively and efficiently deliver these services the Council has three key departments led by three Strategic Directors with the addition of a dedicated Chief Executive Unit.
The Plan
St Helens Council Delivery Plan 2016/17 is the Council's key strategic document; it outlines the future direction of the work of the Council and wider partnership.
The plan contains identified priorities for the next year with details of how performance will be measured set out under the following themes:
Improving People's Lives
Healthy and Active
Skilled and Educated
Independent and Empowered
Creating a Better Place
Safer and Stronger
Cleaner, Greener and Accessible
Thriving, Vibrant and Competitive
For further information View St Helens Council Delivery Plan